One page overview: National Long-Term Climate Strategies in the EU28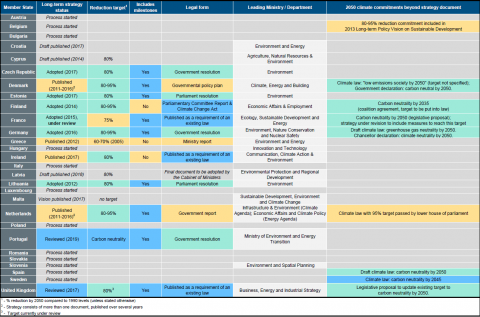 Ewa Iwaszuk, Ecologic Institute
Long-Term Climate Strategies Matrix is a living document that aims to capture existing information on the ongoing processes of long-term climate strategy developments across the EU Member States. The attached one-page overview format aims to provide easy access to those looking for a sense of where Member States are in their strategy development process, and what choices they have made regarding essential elements, such as the reduction targets, sectoral coverage or the legal form of each strategy.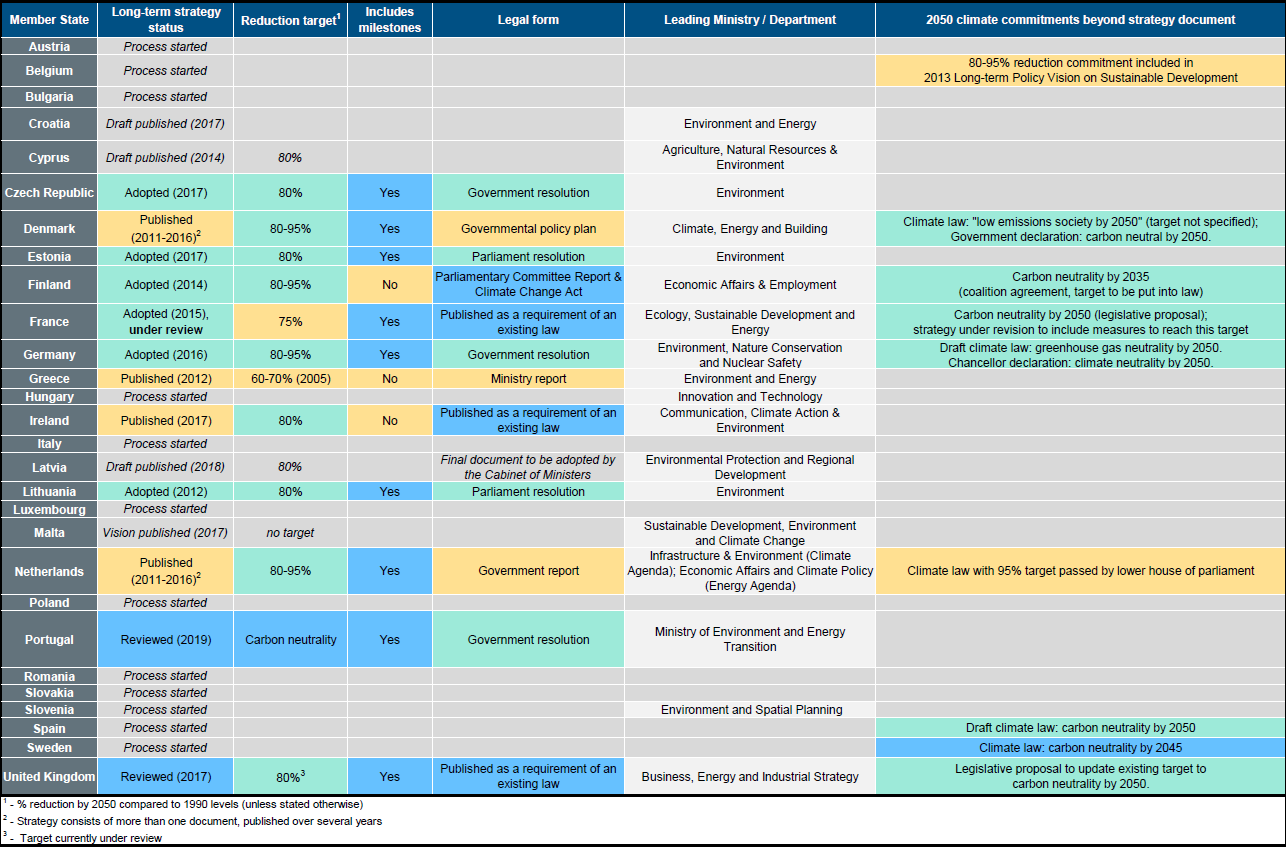 Current version:  October 2019
As this is a dynamic policy area, the information contained in this living document requires frequent review and updating: while some Member States are in the process of draft strategy preparation, others have published drafts that are currently undergoing stakeholder consultation or awaiting a governmental or parliamentary approval. Even the information contained on the already published strategies is likely to change, as some governments, inspired by the Paris Agreement, are increasing their emission reduction targets and reviewing their strategies to match this increased ambition (e.g. Portugal, France).
That is why we invite comments, contributions and suggestions for the development of the Long-Term Climate Strategies Matrix. We will particularly welcome the following:
Comments on information contained in the matrix that is outdated, no longer correct or imprecise, and pointers to new developments that have occurred.

Contacts to country experts that could provide additional information on processes where limited information was found.

Suggestions on further development of the matrix structure, including which information about the strategies it should capture and highlights (e.g. on stakeholder consultation, monitoring and review mechanisms, foreseen financing, etc.).
Contributions, comments and suggestions can be submitted to info@climatedialogue.eu.
Attachments:
Long Term Strategies Matrix - October 2019
Authors:
Ewa Iwaszuk, Ecologic Institute
Date of Publication:
2018
Language:
English