Climate Recon 2050 National Event: France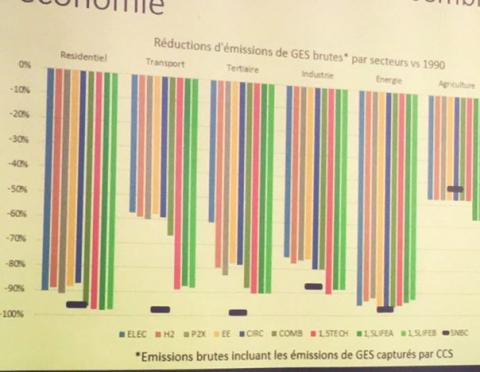 An outreach event for the Climate Recon project took place on May 15th in Paris to discuss how to bridge the gap between short-term policy and investment choices with the commitments taken at both the European and French level to reach climate neutrality by 2050. The event brought together close to 40 representatives from French and European public officials, as well as representatives from French businesses and business organisations, NGOs and research institutions.
A first session, moderated by senior fellow Oliver Sartor (IDDRI) set the scene by presenting and comparing both France's and the Commission's visions to reach climate neutrality by 2050. Fabien Ramos from the Commission's DG CLIMA started by taking stock of the innovations brought  forward by Vision 2050. Julien Viau from the Ministry for an Ecological and Inclusive Transition (MTES) then presented the revised National Low Carbon Strategy (aka "SNBC" in French) and compared its vision with that of the European Commission. To conclude, Christian Couturier from research and consulting agency Solagro zoomed in the agricultural sector, considering both its importance in France's emissions profile and the open questions surrounding the reform of the Common Agricultural Policy.
The second session moderated by climate programme director Lola Vallejo (IDDRI) focused on how to increase the coherence between short-term decisions, in particular climate plans to 2030 submitted by all member-states to the European Union, with the climate neutrality objective.  Three speakers gave complementary perspectives on short-term priorities to ensure this consistency. Julien Lefevre from the International Research Centre on Environment and Development (CIRED) first focused on the fiscal policy side. Anne Bringault, energy lead for Climate Action Network France then presented the challenges surrounding energy planning, articulated in France by a Multiyear Energy Programme, or "PPE". Finally, the business association Entreprises for the Environment gave its perspective on upcoming challenges, and took this opportunity to present its Net Zero Emissions ("ZEN") study, charting the private sector vision for reaching climate neutrality in France by 2050.
Attachments:
Workshop Agenda
Event Language:
French
Event Date:
Event Location:
Paris, France