Policymaker Workshop in Berlin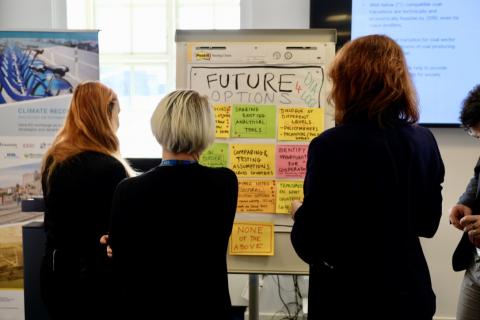 Climate Recon 2050 workshops bring together representatives from governmental agencies and technical experts of different Member States who are (or have been) involved in the process of drafting and implementing their national long-term climate strategies. The workshop's purpose is to act as a forum for exchange on experiences gained and lessons learnt - to foster an intra-European dialogue on the core issues of 2050 decarbonisation strategies.
The fourth workshop in the Climate Recon 2050 "Policy-Maker Platform" series comes in the run up to the 1st January 2020 deadline for the submission of the national-long term climate strategies. It is a crucial time in which a vast majority of EU Member States are defining, designing, refining and finalising their long- term climate strategies. At the same time, decision-makers can start looking beyond the immediate deadline towards implementation issues and a future process of alignment.
This workshop comes in a structure and formula amended to fit the needs and expectations of the CR2050 community – bringing together the policy and technical topics in one joint workshop happening over two working days.
The key topics to be addressed in this session:
- Narratives: how to create and communicate a positive vision, and effectively engage various stakeholders with the content and requirements of the 2050 strategy
- (TBC) Negative emissions options: how do national strategies and their underlying scenarios differ with regard to assumptions on natural and technical sinks?
- Governance elements and climate laws: what are the core elements for implementing strategies after adoption, with insights from existing systems and national framework laws
- Post-submission process: after all strategies have been submitted to the European Commission, how can the EU support national implementation and an alignment of underlying assumptions? How would a useful and constructive assessment process look like?
The event is by invitation only.
Event Language:
English
Event Date:
to
Event Location:
Berlin